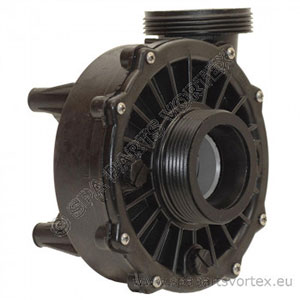 Waterway 48f 4HP Hi-Flo Wet End (2x2)
Precio: 179,27 € ex. IVA

Codigo del articulo: PW-W4825
Estado del stock en tiempo real: 10 disponible, 2 - 5 dias de entrega
Type of Product:
Wet end assembly
Manufacturer:
Waterway
Connections:
2 x 2 inch Waterway unions. Both suction and pressure have a flat smooth connection meaning that the o'ring would be attached to the union sleeve. The wet end fixes to the pump body with 4 x small bolts, this part holds the female receptacle part of this attachment. The impellor is screwed on to the shaft which protrudes from the centre of the pump body.
Dimensions:
Length:
Width:
Depth:
Commonly Used With :
Additional Notes:

Complete wet end assembly. This unit includes the housing, the face plate, the face plate o-ring, the 4.0hp impellor and the ceramic seal kit. This unit also includes 2 built in bleed screws.

Although this wet end is labelled as 4HP it is commonly fitted to our 2HP Waterway pumps and sold as a 2HP as a complete pump.

Previously it was thought that there was not a suitable replacement for the older style Hydroair HA440 wet end. This product has been tried and tested and fits perfectly with the old or the newer HA440. Whether it is single speed or 2 speed it will work absolutely fine.