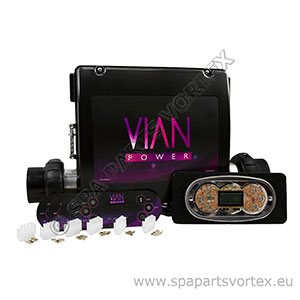 Vian Power Retrofit Kit (Starter Kit). From 1 Pump no air, up to 3 Pumps + Circulation Pump + Air
Precio: 857,74 € ex. IVA

Codigo del articulo: PK-VP610
Estado del stock en tiempo real: 41 disponible, 2 - 5 dias de entrega
Type of Product:
Vian Power Electronic Control pack
Manufacturer:
Balboa
Box Quantity:

1

Power:
Volts: 230vac Hz: 50
Specifications:
From 1 Pump no air, up to 3 Pumps + Circulation Pump + Air
Compatible With:

Any retrofit system, suitable for upgrades.

Connections:
2-inch socket heater union sleeves. Amp cables plug into the PCB to operate the components.
Dimensions:
Length: 500 mm (inc heater) 320 mm (box casing only) Width: 120 mm Height: 300 mm Topside: 178 mm x 86 mm
Topside Buttons:
Overlays included to use depending on your outputs: 1 Pump no air, 1 Pump with air, 2 Pumps with air, 3 pumps with air.
Items Included:
x6 AMP connector 4 pins, x1 AMP connector 2 pins, x1 Bezel, x1 Topside, x1 System Vian Power 3Kw 825 CZm8
Additional Notes:
System Outputs:

This system has been designed to be able to run from 1 pump single speed upto 3 pumps + circ pump + blower.