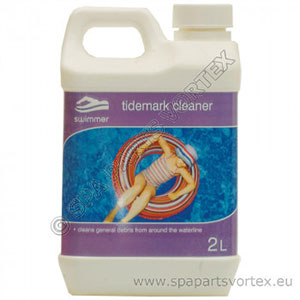 Swimmer Tidemark Cleaner
Precio: 27,50 € ex. IVA

Codigo del articulo: CH-SP118
Estado del stock en tiempo real: órdenes serán enviadas en torno a 14 días a partir de la fecha del pedido
Type of Product:
Tidemark Cleaner
Manufacturer:
Swimmer
Brand:
Swimmer
Size:

2 ltr

Basic Directions:

At waterline level, cosmetics, oils, grease and general debris can accumulate, providing an ideal breeding ground for bacteria and algae. Regular use of Tidemark Cleaner will remove these deposits.

Tidemark Cleaner is formulated for use on all types of pool finish, but we strongly recommend that you treat a small test area to check compatibility before cleaning the whole waterline

Additional Notes:
Due to low sales we will not be selling this product after the current stock has run out.