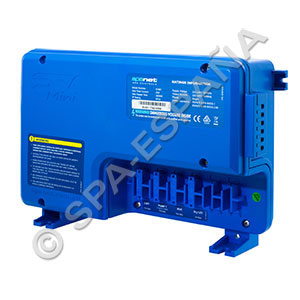 Spanet SV Mini 1 Control Box
Precio: 462,60 € ex. IVA

Codigo del articulo: BX-SVM-1
Estado del stock en tiempo real: 2 disponible, 2 - 5 dias de entrega
Type of Product:
SV Mini 1 Control Box
Manufacturer:
Spanet
Power:
Volts: 220 - 240v
Specifications:

1 x Circulation Pump + Auxiliary (Single Speed Pump or Blower)

Sanitiser

Ozone

UV

LED Lighting

Compatible With:
Spanet SV Mini 1 Control Panels
Dimensions:
Additional Notes:

Setting a new standard in entry-level spa controls, the PowerSMART SV Mini is the small spa control with the big spa features.

The compact control system and remote heater design offers complete flexibility for installation in spas with minimal space, but does not compromise on functionality with a host of advanced and energy saving features usually reserved for high-end premium spas.

Intelligent PowerSMART technology like Dynamic Thermal Tuning and Smart Filtration are always at work reducing power consumption to ensure your spa costs less to run.

SV Mini controls are supplied "ready to connect" to SV series heat pumps and the SV SmartLINK WiFi remote access / SV SMartSTREAM Bluetooth audio package.