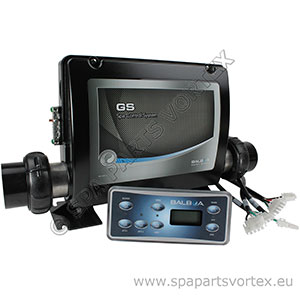 (Pack 4.1) Balboa GS510SZ with regular touch pad. 2 pump with air.
Precio: 838,55 € ex. IVA

Codigo del articulo: PK-51041
Estado del stock en tiempo real: PLEASE USE: PK-BGS41
Type of Product:
Balboa electronic control pack with paired topside control
Manufacturer:
Balboa
Power:
Volts: 230vac
Hz: 50
Watts:
Amps:
HP:
Specifications:
Pump 1: Single or dual speed pump + circulation pump if required.
Pump 2: Single speed
Air Blower: x 1 (optional)
Heater: x 1 (3KW)
Ozone: x 1
Light: x1, 12 volt
Radio, TV/AV: Point available
Compatible With:
Any retrofit system, suitable for upgrades
Connections:
2-inch socket heater union sleeves. Amp cables plug into the PCB to operate the components.
Dimensions:
Length: 500 mm (inc heater) 320 mm (box only)
Width: 120 mm
Height: 270 mm
Topside: 187 mm x 83 mm
Topside Buttons:
Warm, Cool, Blower, Mode, Jets 1 Jets 2 and Light
Items Included:
Balboa GS510SZ control box and Balboa VL701S topside control
Additional Notes:

The M7 technology means you do not need to have sensors and flow switches going back into the tub as everything is done inside the control box by 2 sensors.

*FREE CABLE PACK* this includes...
1 x 4 pin cable (2-speed pump)
3 x 3 pin cable (1-speed pump, blower or ozone)
1 x 2 pin cable (Spa light)
If your system has a circulation pump as well as 2 separate boost pumps you will need to buy another 1 x 3 pin cable.

*SPECIAL NOTE* J17 IS A PORT THAT ALLOWS YOU TO RUN EITHER AN AIR BLOWER OR ANOTHER SINGLE SPEED PUMP. THE PORT IS PROTECTED BY A 10 AMP QUICK BLOW FUSE.