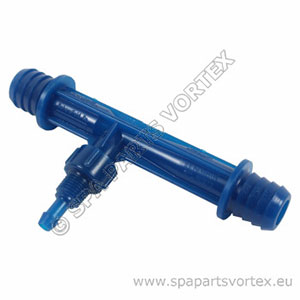 Marquis Spa Ozone Mazzei Injecter
Precio: 46,31 € ex. IVA

Codigo del articulo: OZ-MQ278
Estado del stock en tiempo real: 22 disponible, 2 - 5 dias de entrega
Type of Product:
Ozone Injecter
Manufacturer:
Marquis
How it Works:
The Ozone does not blow air, air is drawn through the Ozone on a venturi system. Usually, you will find a designated water jet plumbed into the shell of the Hot Tub somewhere near the centre or sometimes a drain. Water will pass through the jet sucking in air through the Ozone injector which will be connected to the Ozone.
Compatible With:
Connections / Fixings:
3/4 inch barb style connections both ends to connect to the water line. It also has a 3/8 inch barb style connector to connect the air pipe from the Ozone. Best to use 2 small metal clips or jubilee clips to hold in place as well as glue.
Dimensions:
Length: 150 mm
Width:
Diameter: 75 mm
Additional Notes:
The top part is removable to clean away scale and dirt build up, this should always be done on a full annual service to help with air flow.