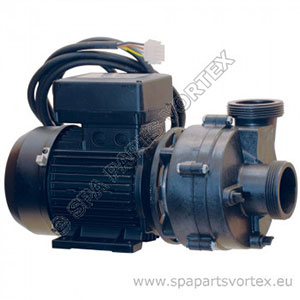 HA440NG 2 Speed 1.5 HP
Precio: 478,13 € ex. IVA

Codigo del articulo: PW-HA443
Estado del stock en tiempo real: 19 disponible, 2 - 5 dias de entrega
Type of Product:
Water pump / Jet pump
Manufacturer:
Balboa
Common Power Reference:
1.5 HP 2 speed
Power:
Volts: 230
Hz: 50
Motor HP Low / High: 0.43 / 1.86
Wet End Impellor HP: 1.5
Amps Low / High Speed: 1.5 / 5.7
RPM Low / High: 1400 / 2800
Capacitor Low / High: 16 uf / 25 uf
Plumbing Connections:
Comes with 2 x 63mm unions, 2 x 2 inches unions and 2 x 50mm unions.
Electrical Connections:
Comes with plain 3 core cable attached, you can easily replace this with your existing wire on site.
Dimensions:
Length: 390 mm
Height: 230 mm
Depth: 190 mm
Commonly Used With :
This pump replaces the 1HP 2 speed Sta-Rite pump found on Master Spas. This pump replaces such pumps found on most commonly Spaform Spas.
Additional Notes:

1 set of unions included.

This pump is also the direct replacement for the discontinued GC150 with the blue wet end. It is not a straight swap for the GC150 as there are a few plumbing changes needed.

This pump will perform at its best with 2-inch plumbing. This pump does not always perform at its best when plumbed into 1.5-inch plumbing combined with running through a water diverter valve.