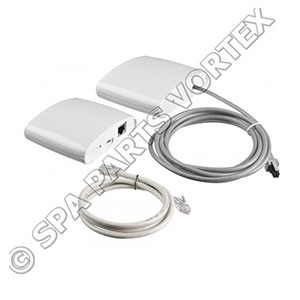 Balboa Control My Spa WiFi Controller
Precio: 305,95 € ex. IVA

Codigo del articulo: CB-BA100
Estado del stock en tiempo real: 35 disponible, 2 - 5 dias de entrega
Type of Product:
WiFi Control Module
Manufacturer:
Balboa
Box Quantity:

8

Compatible With:
The BP Series by Balboa: BP2100G1, BP6013G1, BP6013G2 and BP200UX
Basic Info:
Install somewhere in a dry place within the cabinet of the Hot Tub. Connect directly into the control box. Download the app to your device such as Android®, iPhone®, iPod touch® or iPad® and away you go.
Connections:
RS485 Power/Data cable to PCB
Dimensions:

Power Cable Length: 150cm

Ethernet Cable Length:94cm

Module Dimensions:10 x 9 x 3cm

Additional Notes:
This device works only with licensed Balboa products, use with any other device is not recommended and will instantly void warranty and could also cause damage to existing software.