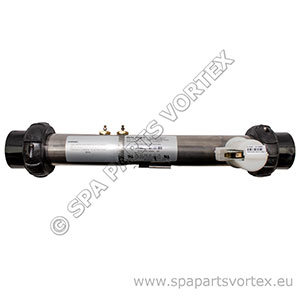 Balboa 3.0KW Heater with Pressure Switch
Precio: 248,44 € ex. IVA

Codigo del articulo: HT-BPS30
Estado del stock en tiempo real: 6 disponible, 2 - 5 dias de entrega
Type of Product:
Heater assembly
Manufacturer:
Balboa
Power:
Volts: 230
Hz: 50
KW: 3.0
Amps: 11.5-12.0
HP:
Specifications:
Sensor compatibility: Pre M7 double harness style
Material spec: Incoloy
Required flow rate: Set by pressure switch
Flow detection: 2-PSI Balboa pressure switch
Compatible With:
Lite leader box, M3 TUV, Spaform SF100, Catalina, Hydropool, Canadian Spa, Hyrdospa, Marquis Spa, Aegean, and more...
Connections & Fixings:
Usually held in with a double aluminum brace. Hi limit sensor pouch on underside. 2" white plastic female sockets to connect to plumbing
Dimensions:
Length: 381 mm
Diameter: 50.8 mm
Between terminals: 31.75 mm
Overall length complete: 495.3 mm
Additional Notes:

You may find cheaper versions of this heater on the internet but they are most likely cheap copies. If it is not an official Balboa product with genuine labeling do not buy it.

If your heater looks the same as this one it most probably is but contact us if you need further help.