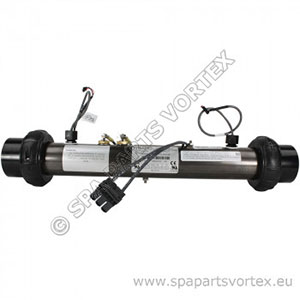 Balboa 2.0KW Heater M7 Plug n Click (BP Series)
Precio: 232,19 € ex. IVA

Codigo del articulo: HT-BPC20
Estado del stock en tiempo real: 51 disponible, 2 - 5 dias de entrega
Type of Product:
Heater assembly
Manufacturer:
Balboa Plug n' Click
Power:
Volts: 230 Hz: 50 KW: 2.0 Amps: 8.3-9 HP:
Specifications:
Sensor compatibility: M7 24 inch x 2Material spec: IncoloyRequired flow rate: 21gpmFlow detection: M7 Technology by using a sensor at each end of the heater assembly
Compatible With:
BP500/501, BP600/601, and BP2100
Connections & Fixings:
Usually held in with two fixing studs, one at the top and one underneath. 2 inch white plastic female sockets to connect to plumbing. Purpose fitted plastic plug to connect to PCB to avoid damage to heater terminals and speedy replacement time.
Dimensions:
Length: 381 mm Diameter: 50.8 mm Between terminals: 31.75 mm Overall length complete: 495.3 mm
Additional Notes:

No need to deal with heater straps, screws, wrenches, or broken copper straps. All you need to do is plug-and-click and you're done!

Previously a restricted after sales item but available to general trade once more.